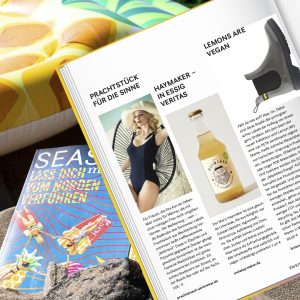 Kaiserbäder-Badeedition jetzt exklusiv in Heringsdorfer Boutique: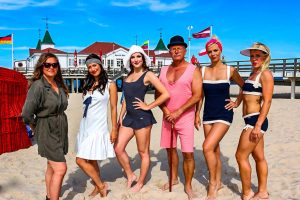 Swimwear pays homage to the tradition of imperial baths
Inlaid bodices, rather chaste forms and yet not dowdy: the stylist and swimwear designer Katrin Werger was inspired by the historical Baltic swimwear look. Now, in reminiscence of history, her swimwear edition in the famous German "Kaiserbad" (imperial baths) tradition has arrived.
– 90-60-90: Few women have these supposedly feminine dream dimensions. According to the Federal Statistical Office, more than 40 percent of women have a body mass index of over 25 and carry some extra weight on their stomach and hips.
The Ahlbeck collector of historical swimwear, Jürgen Kraft, can therefore only shake his head at the current trend towards tight swimsuits and revealing bikinis. The historical bathing bodices from his collection show that some extra layer can certainly have its charm. "Covering certain parts of the body can be much more erotic than exposing them," says the collector.
About a year ago, stylist Katrin Werger listened to a radio report on Kraft and his historic swimwear collection and contacted the Ahlbeck native to draw inspiration from his historic pieces for her vintage-inspired collection Prachtstück. "In our fashion industry, the 16-year-old girl is the ideal. But I'm no longer 16, and I'm not of slight build, but still want to see myself recognized as a woman, " Werger describes her intention to design swimwear, which brings the female curves into display while skilfully hiding problem zones.
Since about three weeks, her swimsuits and two-pieces, reminiscent of the 1920s fashion and body-shaping bodice of the 1950s, are being sold online. A swimsuit in a 1920s tennis court look or a bathing suit with a small skirt in the Josephine Baker style are just as much a part of it as a bikini, which with its nostalgic bows refers to the bodices of the 20s. The figure-hugging look of Marilyn Monroe or Sophia Loren also served as paragons for her collection.
As a reminder of the Usedom bathing tradition, some of the pieces are now to be offered on the island as an imperial bathing edition with a small golden imperial bathing logo. "The trend towards vintage is not new, but it's stable," says
Sigrid Münzberg, spokeswoman for the Federal Association of Design Fashion Textile. On one hand, this fashion trend serves to set itself apart from the mainstream, on the other hand it can also be understood as a return to old values, the memory of youth or identification with a decade past – even if the last can sometimes become transfigured.
The swimwear is produced in a factory in Saxony, which is particularly pleasing to swimwear collector Kraft. "That was the heart of GDR swimwear production until the fall of the wall," says Kraft. The VEB knitwear OLUBA with 3200 employees produced swimwear which was exported to 18 countries – also as so-called "permissive production" for West German swimwear manufacturers.
The idea to follow the tradition of more chaste, but still attractive swimwear, emerged from personal plight. "I was very unhappy myself. I could not find anything that I like, "recalls Werger. Her pieces in nostalgic chic are now supposed to give dignified support to well-proportioned women.
In addition, Werger works with tricks from the sports fashion sector or from swimwear history: broader straps, a firmer sewn inner part to give the figure more shape. Her goal: to emphasize the positive and make the "negative" optically disappear.
As early as the 1920s, the swimwear industry knew how to give women feminine support, says swimwear historian Kraft. The Cologne-based company Rosenberg & Herz (RH Forma) patented the incorporated bodice in a bathing suit at that time.
Quelle: www.focus.de